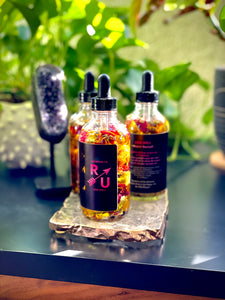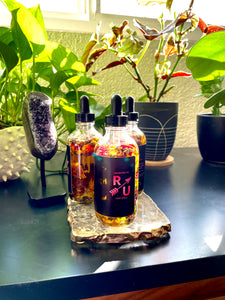 Anointing Oil // Love Spell
Regular price
Sale price
$19.00
---
We are so excited to introduce our newest edition to our line of personal RITUAL tools, this time in the form of an anointing oil. Anointing one's self and others is the greatest form of magick you can perform. This particular anointing oil is for love but focuses on one of the many forms of love one might need, self love. This also calls upon the power to attract love, give love, and the ability to receive love.
This anointing oil is first and foremost for self love. Self love is the most important gift you can manifest for yourself and for others. When practicing magick with this anointing oil, hone your intentions and manifestation to accept and love yourself or to help someone find it within themselves. 
We used the following herbs and crystals to create this magickal oil:
Amethyst: protection, spirituality, and connection with the third eye and crown chakras
Garnet: communication, calming, and connection to the root, sacral, & heart chakras
Peridot: healing, comforting and connection with the heart and solar plexus chakras
Tanzanite: meditation, awareness, and the connection with the throat, third eye, crown, and higher crown chakras
Black Tourmaline: grounding, calming, and connection with the root chakra
Aquamarine: communication, calming, and the connection to the heart, thymus, throat, and third eye chakras
Chamomile: for love and healing
Rose: for love
Lavender: for awareness and healing
Violet: for love
Calendula: for love and happiness
Roselle: for attracting love and lust, as an aphrodisiac, and for love spells.
Golden Hue: we used jojoba oil for the base to use a natural golden hue. The color gold in magick is the color of sun god, wealth, pride, satisfaction, positive energy, attracts positive energy, and make your personality shine. My specific intentions are to make you glow like the god/goddess you are, to let your true self shine.
How to use: Shake well before using. Use pipette to apply small drops to your wrists, neckline, back of neck, or apply to finger tip and anoint your forehead. You can add to a bath to anoint your entire body with self love, ensure none of the crystals or herbs go down the drain. You can also use this in an unscented white candle to infuse our magick in with your personal rituals. This is for external use only. Use within 9 months of opening the bottle for the first time.
Fragrance Profile: Top notes of sweet mandarin and wildflower honey with middle notes of lily and rose to create a beautiful airy, floral fragrance. Hints of woody amber and powder in the base provide a rich, earthy balance to the clean floral notes. Orange and lemon essential oils enhance the bright freshness of this ozonic fragrance. The coastal quality of our blend has a marine freshness that's infused with rose petals for a soft, romantic character.
This fragrance is infused with natural essential oils, including orange, lemon, and tagete.
Note Profile:
Top: Mandarin, Coastal
Middle: Rose, Lily
Base: Amber, Powder, Honey
Ingredients: Proprietary blend of natural, cold pressed Jojoba Oil, RU proprietary blend of essential oils and fragrance. No preservatives, no parabens, not tested on animals. Our oils are all clean fragrances, meaning free from carcinogens, reproductive toxins, and other potentially hazardous chemicals often found in fragrance. Approximately 4oz.