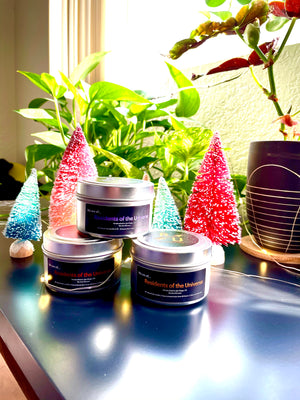 RU Holiday Collection
---
Our 2020 collection for holiday with a unique twist on seasonal favorites.
Cardamom + Star Anise
Cardamom + Star Anise infuses spaces with the aromas of a spice bazaar. Peppery top notes of ginger and cardamom mingle with the star anise to create a fusion reminiscent of a cup of masala chai. Middle notes of alluring star anise and a dash of nutmeg combine into this super fragrant spice blend. The base of smooth vanilla bean and anise balance the spice and add a touch of sweetness.
Note Profile:
Top: Cardamom, Ginger, Eucalyptus
Middle: Anise, Nutmeg
Base: Anise, Vanilla
Cashmere Plum
Wrap yourself in comfort with Cashmere Plum fragrance. This fruit forward scent has a cozy warmth that's always inviting. Bright citrus and a touch of black cherry enhance the dark plum heart of this fragrance. Amber, sugar, and vanilla base notes reinforce the sweetness of this scent, while musk and freesia add a light earthy dimension.
This fragrance is infused with natural essential oils, including cedar, bergamot, and clary sage.
Note Profile:
Top: Citrus
Middle: Plum, Black Cherry
Base: Amber, Sugar, Light Musk, Freesia, Vanilla
Pumpkin Rum Cake

Pumpkin Rum Cake fills spaces with a deliciously spiced autumnal scent. For lovers of pumpkin fragrances, this scent would be a unique and beautiful addition to your collection. Comforting bakery notes of cinnamon, clove, nutmeg, and cardamom blend with the pumpkin and sweet cake. Dark rum, butter, and tonka bean base notes round out this scrumptious gourmand fragrance.
This fragrance is infused with natural essential oils, including cinnamon, nutmeg, cedarwood, clove leaf, and lemon.
Note Profile:
Top: Cinnamon
Middle: Pumpkin, Clove, Nutmeg, Cardamom, Cake
Base: Rum, Butter, Tonka Bean